Craft swaps are fun, but it's a good thing the group I'm part of is understanding because very few of us are terribly timely with our projects. Until this weekend, I was three months behind on my submissions. I decided to take June as my "free" month, and then I did two items to catch me up for the summer. Nothing super neato, but I enjoyed what I made. I continue to try and use as much of the materials from my swap packet as I can.
So, here's what I made:
For July, I decorated these little kraft paper notebooks I found on super clearance a few months ago. The paper and ribbon are from my swap pack, and I think I bought the sentiment cards…though maybe they were in the packet, too? I don't remember. The ladies I went to the convention with (why I feel weird about using their names when I posted photos of them yesterday I cannot explain), who are members of the swap, really liked these books.
For August, I made some get well cards. The patterned weather-themed paper and little pearls were from my packet. I put the cards together and didn't have any sentiments and was a bit bummed. Especially after searching the convention vendor floor for two days to find something that would work. Luckily, one of my crafter friends found and bought a stamp pack that was just perfect, and so now my fellow swappers can tell someone "I'm sorry to hear you are under the weather." (Get it? Weather? Umbrellas and raindrops? Oh, I am so clever!)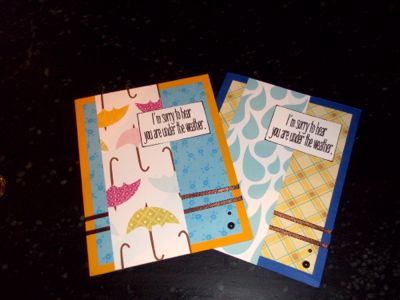 My swap packet is starting to get a bit empty and tattered. How many more months did I sign up for this?