Towards the end of last year, a group of my crafty pals decided we'd do a holiday tag swap. If you don't know much about the crafty world, let me tell you that crafty folks (at least the paper crafty ones) really like to do swaps. Our group, The Queen Bee Croppers of NRV, has been around for three or four years now, and though we've talked about doing a swap many times, this was our first.
We had five folks participate, and of those five, three of us decided to add an extra level to the swap. We each made up a packet of stuff from our craft stashes and switched. I really love this sort of thing where you get a bunch of stuff and you have to make something out of it. I think it's a great chance to work with items you wouldn't normally choose, and I think it encourages stretching those creative muscles. Here are the materials I got in my swap packet: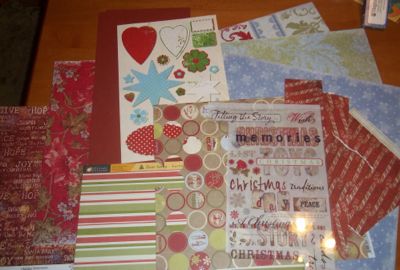 My packet was almost all paper, which threw me a bit. Then I started looking at things and realized the stripey paper would make a nice ribbon and the circle paper would make nice little medallion thingies. I very much wanted to make my tags using only the items in the packet (plus adhesives of course), and I almost did. Alas I broke down and used some of my quilling paper. I tried to make quilling strips from the papers in the packet, but nothing really worked.
Here's one of the tags I made. They are supposed to be little Christmas packages.