One great thing about Anya's school is that we get lots of breaks. We are now finishing up a week-long mid-winter break, and although I am most definitely glad to return to our regularly scheduled program, I am also most definitely glad to have had the time off to explore new places with my family.
A few months ago, Anya's teacher sent home a dinosaur book in Anya's homework bag. In the book, the main character goes to a super cool museum jam packed with dinosaur fossils. Andy and I wondered if the book was based on a real place, and if it was could we go there?? Turns out the museum is real and it is in New York City. We pondered for a while how we could make that trip happen, but we decided it wasn't doable right now. However, there are these pretty cool museums in this little town nearby called Washington, D.C.
When I realized that mid-winter break was coming up, I suggested to Andy that we maybe go to DC. He jumped on the idea, and the next thing I knew, he'd reserved a hotel and figured out which bus (YES BUS) we'd take to get there. I'm not sure which excited Anya more: the idea of going to DC or the idea of riding a bus for a long trip. I know what did not excite me: waking up at 1:30 am to drive to town to sit in the cold and wait for the bus to show up.
Buses are nice. Why don't more people travel by bus? (Maybe that waking up at 1:30 am?) I get that it's not the best thing if you've got a baby or a gaggle of kids or if you are on crutches or if you have a ton of money and can fly everywhere or if you need to pee every hour. It is so nice, though, to sit back and chill and let someone else do the driving. On the way there, we all three slept. On the way back, we played cards together. All the passengers were quiet and respectful and the bathroom didn't stink and there was wifi. Megabus, you have my vote.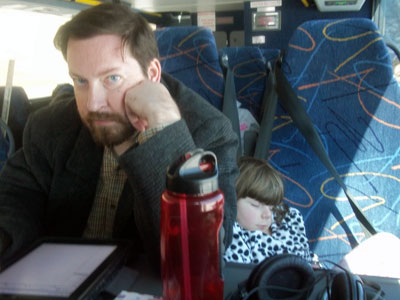 We arrived in DC around 7:30 am. Yay! Rush hour! The bus dropped us off at Union Station, and we had to get on the metro subway thingy to get to the hotel. There are LOTS of escalators involved with the subway. Escalators are scary. On the first one we encountered, Anya freaked out a bit. Andy went first, and Anya was supposed to go second, with me following behind. She stepped on and I stepped on and she stepped back off and then there Andy and I were going down the escalator with Anya at the top holding up traffic. (Did I mention it was rush hour?) I was turned around calling up to Anya trying to get her to step on, and the next thing I know THUNK. My shoe caught at the bottom where the escalator swallows the belt to send it back up and around. The good thing is that (unlike my in life-long fears of being eaten by an escalator) I wasn't sucked into the escalator's teeth. The bad thing is that (did I mention it was rush hour) my foot stopped the escalator. [Interesting Note: When we were leaving DC a few days later, that escalator still was not working. Oops.]
We emerged from the subway and after getting lost a few times and asking a hot dog vendor for directions, we made it to our hotel. They let us stash our bags there even though we couldn't check in yet, and after Anya changed out of her pajamas we headed into the big city. The first museum on our list was, of course, the Museum of Natural History (aka The Dinosaur Museum). Turns out it didn't open for a while, so we had breakfast in a food court at the old post office building and then headed back.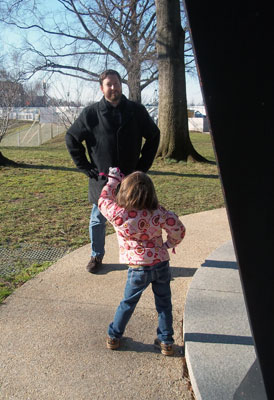 Pretty much the moment we cleared security at the museum, Anya took off skipping and squealing, "OOOO! LOOK AT THAT LOOK AT THAT LOOK AT THAT!" We saw sea creatures and mammals and mummies and gems and orchids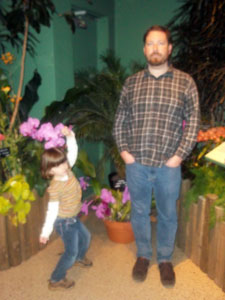 and REAL LIVE SCIENTISTS working with fossils in the fossil lab and baby butterflies and meteorites and a movie about our ancestors where we got to sit with one of our relatives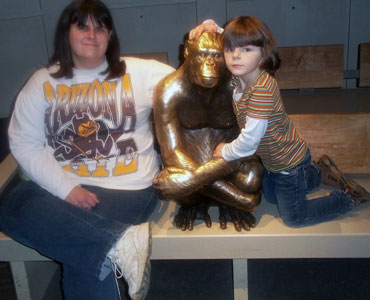 and of course we also saw dinosaurs. (No, this photo is not of a dinosaur, but it is a really old critter!)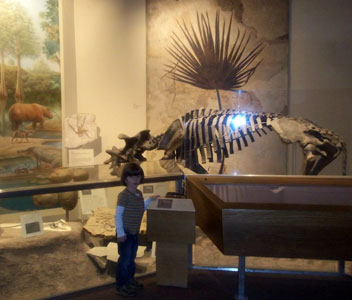 Somewhere around the gems and mummies, we all started to crash. Luckily we were able to check into our hotel early. It was a super fancy hotel that Andy got some good deal on, and I think they maybe thought we were super fancy, too. But we aren't. I felt a little out of place when the tall dude with the fancy coat and top hat opened the doors for us with a "Bonjour!" And then there were the super posh flower arrangements in the lobby. And the real live painting hanging over the bed in our room.
And the bathroom with a shower AND a tub AND a hairdryer in its own little cloth bag.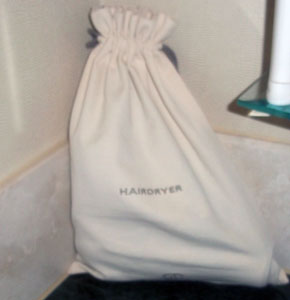 And then later? Some fancy-dressed dude brought us a little dessert plate because Andy's good deal involved some sort of membership in a super-schmancy platinum diadem club or something.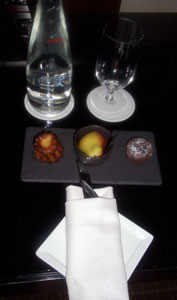 The view from our windows was fascinating. I could watch folks working in the offices in the buildings across the street, and I could see people coming and going at the hotel entrance, and I could watch all the cars as evening rush hour came and went. After napping and munching and napping and looking out the windows and taking baths and napping, we went out in search of nail clippers, bubble bath, and soda. All three were conveniently found at a nearby CVS, which was on the other side of a small park with a neat monument and ducks and rats.
To be continued…