I started the day with a bubble bath, and then we were off to The Hamilton for brunch. They seated us in a booth with doors. DOORS. The booth had doors. I suppose when you ask the concierge at the fancy schmancy hotel where a good place to eat is, you are going to be sent to fancy schmancy restaurants where the booths have doors. Surprisingly, the meal didn't cost all that much more than a chain, but it was sooo much better. Sometimes I find myself day dreaming about that french toast with the lake of buttery syrup on top. (And yes, we did close the doors.)
Our first museum of the day was the Museum of American History, or as Anya called it, "The Place with the Ruby Red Slippers." Half of the museum is under construction, and I was worried the slippers wouldn't be on exhibit. We wandered around in war exhibits for a loooong time. I think one floor was all war. My favorite part of the war floor was all the clothing exhibits. This surprised me a bit 'cause I'm not a clothes person, but the embroidery and other detail work really caught my attention.
Finally we found what we'd been looking for…the slippers! YAY! Anya was being a goober, though, and I think I bribed her with two pounds of twizzlers to get her to pose for this photo.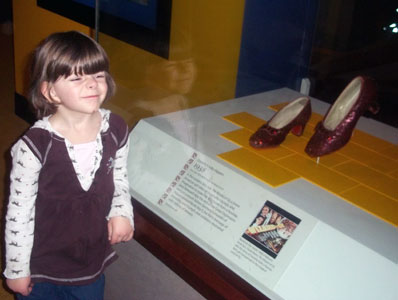 In the same area, I also found my favorite part of the non-war floor: Kermit!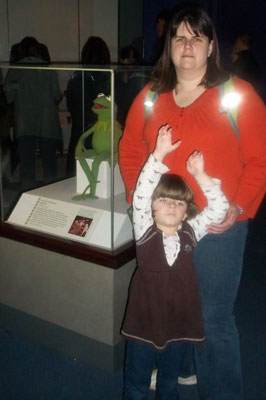 For some reason on this day we had trouble keeping together as a group, and so while I analyzed Julia Child's kitchen, the kid and the dude went off somewhere else. I'm not sure where. I finished and hit the gift store, where the other two later joined me. The entire time we were in DC, we only bought two souvenirs: a ruby slipper magnet and a paddle ball thingy for the kid. How we managed to escape without any t-shirts or post cards or ball caps or stuffed animals or whatever, I'm not sure.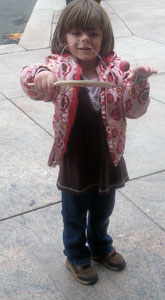 Back to the hotel for a nap, and then we were off to the second museum of the day. First, though, we had to stop at the carousel, on which Anya "wheeee'd" for the entire ride.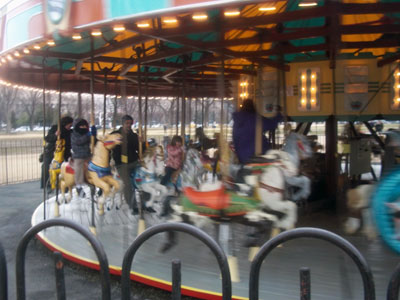 Then we were on to a sculpture museum, which also had non-sculpture stuff. Most of the stuff inside was that crazy modern art where you paint a canvas blue and say VOILA. Still it was fun, and we all agreed that the coolest things were the snake made of backpacks winding around the ceiling of one floor and these great zodiac statues outside.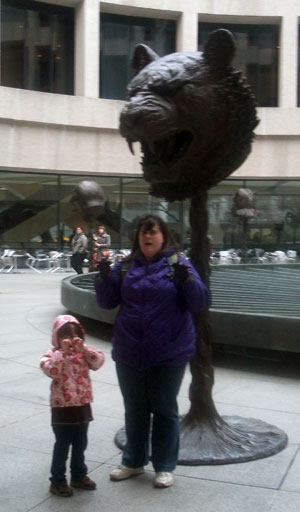 We had dinner reservations, and so we had to practically run allllllll the way across town to get to the Old Ebbitt Grill on time. When we arrived the place was packed, but we were shown right to our table. Yay for reservations! [I'd like to take a moment here to talk about fabric. In particular I'd like to talk about how vinyl-like fabrics (that is to say smooth fabrics) really are key to successful seating in booths. When booth benches are upholstered in, say, fuzzy velvet-like fabrics, the ability to scoot across the seat vanishes.] Anya says this place has the best mac and cheese EVER, and although I wasn't too keen on my dinner, the dessert was awesome. I really should have listened to the waiter when I ordered my entree because he was right on with dessert. Oh well.
We all rolled back to the hotel, stopping briefly for the required tourist shot outside the White House.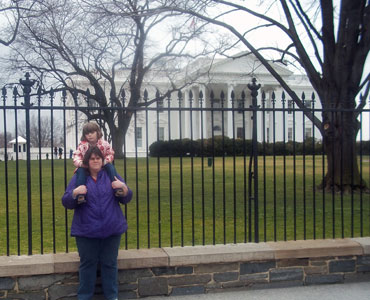 Back at the hotel, Andy and Anya took bubble baths, I did some crewel work, and then we all crashed.
To be continued….