During his seventh month on planet Earth, Kostya: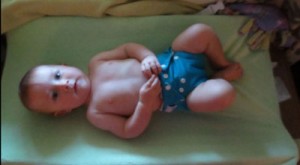 Ate some banana, avocado, yogurt, and sweet potato.

Stole his Daddy's bagel and slurped the cream cheese off of it, and he eyed us intently when we ate.

Started making fart sounds and smacky sounds.
Enjoyed hanging out in his high chair to play the "throw things on the floor and watch Mommy pick them up" game.
Sat without falling over! Anya likes to tell this story. We were outside, and I was in the garden, and Kostya was under a tree on his blanket, and Anya was with him, and Kostya was sitting there, and he sat and sat and sat for 20 minutes and then Anya got bored and pushed him over.

Hosted a tick on his head for a brief time.
Went to his first community yard sale.
Said, "bububububub," which, according to Anya, means "Bubba."
Anya finished first grade,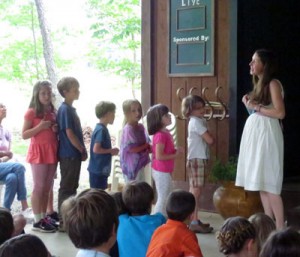 and had her first sleepover with a friend. (It wasn't planned, and I hadn't had time to prepare myself, and I was all with the freaking out, "Mah baybee!" After I got over the freaking, Andy and I took Hardee's food home and watched violent television we can't watch around Anya.) Anya also created her own tree house. There were separate rooms and a doorbell and she sat in it and read a book.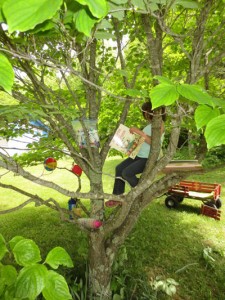 Carol bought a gallon-sized bag of buttons for $5, planted tomatoes, peppers, cucumbers, and flowers, and got a weed eater for her 16th anniversary.
Andy gave his wife a weed eater for their 16th anniversary and survived to tell the tale, and he planted a LOT of grape vines.