Does it appear to anyone else that I merely photoshopped a yellow diaper that weird green color? I promise I did not. I took this photo yesterday.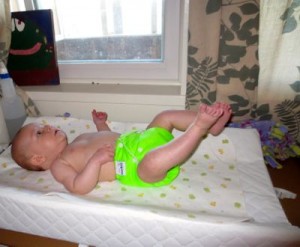 In month four, Kostya
– Quit his day job at the school, so he can spend more time with his Auntie M.,
– Finally experienced the joy that is nakey-butt time (it's been too cold!),
– During said time in the aforementioned item, rolled over with a little bit of assistance,
– Went on his first road trip to visit his Grandparents down South,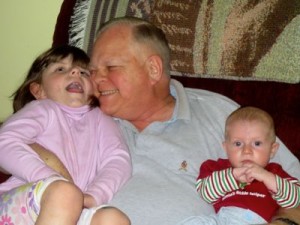 – Stayed in a hotel for the first time,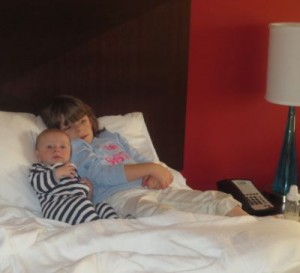 – Made Grandma laugh so hard she almost peed her pants due to his insane chortling when she zerberted his feet,
– Talks…a lot, drools…a lot, and giggles…a lot…especially when you tickle (or zerbert) him,
– Had his first yoga lesson,
– Rode in his snazy stroller,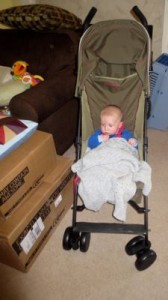 – Continued the tradition of being photographed with stuff on his head,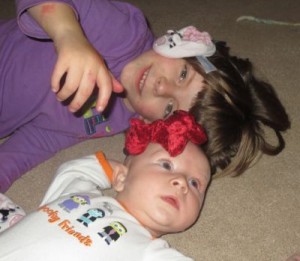 – Got his first cold, gained half a pound, and outgrew some of his 3-6 month clothes and the first level of his bed,
– Slept through the night a few times,
– Went to his first grown-up party,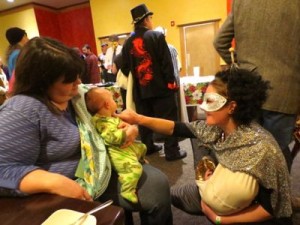 – Discovered those things at the end of his legs are FUN,
– Finally got his Superman outfit back from the tailor (where is that picture??)
– Tried to pull my cheek off my face with his superhuman strength (see above), and
– Got Mama a little payback by twisting his fingers into Anya's hair and pulling!
Anya visited the Great Wall of China,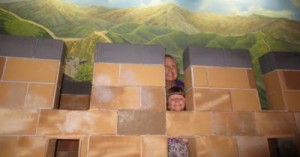 said "something" a lot less when reading, flew a helicopter,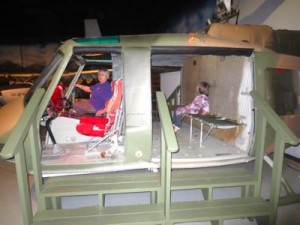 took her first voluntary shower, read to Kostya, taught Gramma and Kostya some yoga,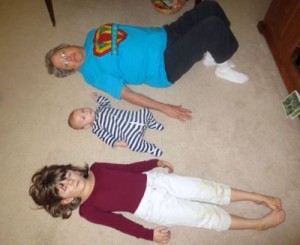 learned to play poker,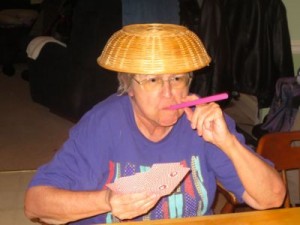 and added to her vocabulary great sayings and words like: "What the huh?," "Sheeeeeesh," "Uh—yuh!," and "Morlon" (as in Mama, you are a morlon!).
Carol knitted half a sock, stared longingly at craft books (and really books in general), tried to do some scrapbooking at home when she wasn't able to make a crop and realized it just wasn't much fun alone, and was reunited with her Little People toys.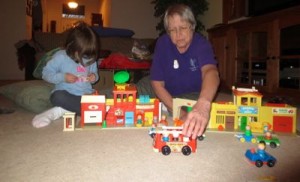 Andy got a hair cut, watched the baby alone for three whole hours, and went to a LOT of meetings.