I bet if everyone knew you could buy a Pot Maker, which turns ordinary newspaper into ordinary pot, well, I bet things would be different.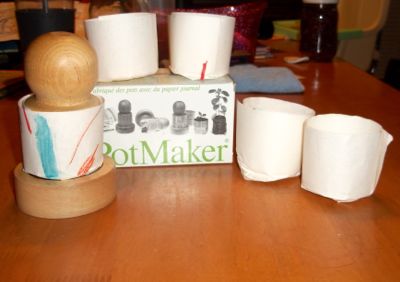 Darn. I really feel like I should be able to come up with some awesome pot jokes given this great prop, but I see now that I didn't even take the photo correctly. You can't even tell it's a Pot Maker. It could be a Bot Maker or a Rot Maker or a rare and coveted 3ot Maker.
So, Spring is on the horizon, and [even though I told Andy at one point last summer when the weeds had taken over and the groundhogs had eaten the last cucumber vine: "the gardening part of me is dead"] I decided to give gardening another go this year. Ever since we moved here oh so many years ago (SEVEN!), we've tried to garden and mostly failed. Last year was the best, but still pretty much all we got were potatoes and pumpkins. This is sort of embarrassing what with me supposedly being a Master Gardener(tm). This year, though…this year is going to be different! Yah! We'll have potatoes AND pumpkins AND one more thing! It may even be something we like to eat!
I've had my Bot Maker for probably about 15 years, and I've never used it. What with my newly found gardening zest and determination, now seemed like a good time to break it in. Anya is absolutely in love with the Rot Maker. Even though we didn't have any newspaper last night, we still had to make some pot…s. We used some drawing paper she'd doodled on, and it worked really well. Then today, we had to take it to school to show everyone how to make pot….s. I guess there wasn't time to in class today to learn about making pot…..s, but the teacher said she'd love to have us bring the 3ot maker back another time. I don't really intend to grow any plants from seeds, so I'm not sure what we'll do with all the finished pot…..s. Want some?
Too much of anything, even pot making, is not good for anyone. [Plus we haven't finished reading the weekly local newspaper yet. It just arrived today, and there's a sudoku puzzle in there!] Because it's still way too early here to plant anything and I want to keep my excitement alive and educate the kid and actually do something I've pinned on Pinterest….I bring you my Great Bean Experiment.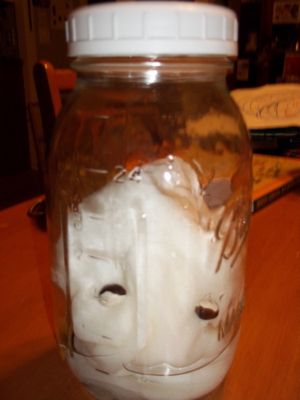 The original looks a bit more interesting. I clearly have too large a container and too small a bean to ever have my experiment Pinned. Hrmpf. I wonder if I get extra points for having FOUR beans instead of just one?
The experiment started yesterday, and not much has happened yet. No wee green sprouts. No fuzzy white mold. No giant stalks shooting up into the sky, which I freely admit I am glad about because we got a bunch of snow yesterday and it is COLD and I am pretty sure our insurance wouldn't cover that. I suppose if one day the beans do sprout, we'll be prepared what with all the pot….s.