I apologize for keeping all of my fans in limbo for so long, but I've had blogger's block.
So, how did I do? I not sure of the exact number of things I entered; it's all a bit hazy now and my counting skills are off, but I'm going to go with 72. It took about an hour to get everything registered, and I was lucky number 13 to sign in. All the extension folks and volunteers helping were really nice and seemed to think my quest was pretty cool. The last item I completed was finished there next to the registration table where I sat on the concrete for about 15 minutes writing in the text for my scrapbook layout about the fair.
I turned my items in Thursday evening, and the fair wasn't until Saturday morning, so there was some waiting and a weird sense of being lost in the world. When we arrived at the fair, Anya wanted to play on the bouncy house, but I am a mean mama and forced her to go to the exhibit room instead. It was pretty awesome to see all those ribbons.
Here's a quick look at the main craft area. There was another craft table off to the right that you can see the very corner of, but you can see this isn't big a competition and can maybe understand why I was inspired to start this project.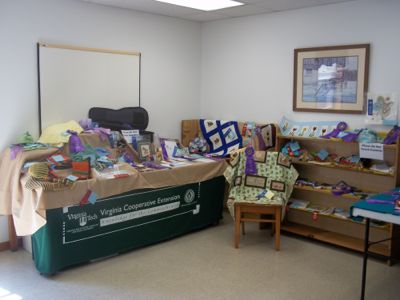 Here's a list of everything I entered and what it won. I think I got most of the placing right, but some might be switched. (The ribbons got shifted when I packed up.) I'm really not sure about the grands/reserves…there are two not listed on here 'cause I just can't remember where they go.
2 Garden Produce Fresh Fruit Misc. Fruit (1/2 pt) – 2nd
3 Garden Produce Fresh Fruit Tomatoes, Cherry (6) – None
4 Garden Produce Fresh Fruit Tomatoes, Red (4) – None
5 Garden Produce Fresh Fruit Tomatoes, Yellow (4) – None
6 Garden Produce Fresh Veg Beans, String (8) – 3rd
15 Garden Produce Fresh Veg Peppers (3) – 2nd
16 Garden Produce Fresh Veg Potatoes (4) – None
20 Garden Produce Fresh Veg Misc. Veg (pumpkin) – 3rd
21 Food Canned Fruit Apples – 3rd
23 Food Canned Fruit Peaches – 1st
60 Food Jelly Blackberry – 2nd
64 Food Jelly Misc. Jelly (apple) – 2nd
65 Food Preserves Apple Butter – 2nd
66 Food Preserves Berry (not strawberry) (raspberry) – 3rd
67 Food Preserves Strawberry – 1st and grand or reserve
69 Food Preserves Peaches – None
78 Horticulture Plants Flowering House Plant – None
81 Horticulture Plants Foliage House Plant – 2nd
87 Horticulture Cut Flowers Marigold (single stem) – 3rd
88 Horticulture Cut Flowers Meadow Flowers – 3rd
89 Horticulture Cut Flowers Zinnia (single stem) – 3rd
91 Horticulture Cut Flowers Mum (single stem) – 3rd
97 Horticulture Cut Flowers Misc. Cut Flower (single stem) – 2nd
98 Horticulture Cut Flowers Arrangement of Cut Flowers – 1st, grand or reserve
100 Horticulture Dried Flowers Dried Flower Arrangement – 2nd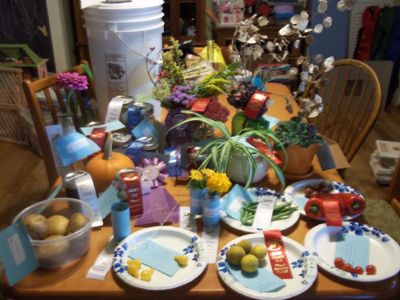 103 Needlework Crocheting Doilies – 2nd
104 Needlework Crocheting Infant's Set – 1st and grand or reserve
105 Needlework Crocheting Table Linens – 2nd
106 Needlework Crocheting Misc. Crocheted Item (market bag) – 1st
108 Needlework Knitting Infant's Set – 2nd
111 Needlework Knitting Misc. Knitted Item (shawl) – None
112 Needlework Cross-Stitch Baby Item – 1st
113 Needlework Cross-Stitch Christmas Item – 1st
114 Needlework Cross-Stitch Wall Hanging (unframed) – 2nd
116 Needlework Cross-Stitch Beaded Item – 1st and grand or reserve (I think)
117 Needlework Cross-Stitch Misc. Cross Stitch Item (bookmark) – 1st
118 Needlework Embroidery Crewel – 1st
119 Needlework Embroidery Needlepoint – 1st
120 Needlework Embroidery Silk Ribbon Embroidery – 1st
122 Needlework Embroidery Table Linens – 2nd
123 Needlework Embroidery Misc. Embroidery – 2nd
130 Needlework Clothing Blouse or Shirt – 2nd
132 Needlework Clothing Dress – 1st and grand or reserve
133 Needlework Clothing Totebag or Handbag – 2nd
134 Needlework Clothing Skirt – 2nd
135 Needlework Clothing Misc. Clothing Article (cape) – 2nd
136 Needlework Quilt Pieced – 2nd
137 Needlework Quilt Wall Hanging – 2nd
139 Needlework Quilt Misc. Quilt – 2nd
141 Craft Handicraft Plastic Canvas Item – 1st
142 Craft Handicraft Button Crafts – 1st
143 Craft Handicraft Creative Craft (toothpicks, rolled paper) (quilled) – 1st
144 Craft Handicraft Creative Toy – 1st and grand
145 Craft Handicraft Item made from recycled materials – 2nd
146 Craft Handicraft Jewelry – 1st
149 Craft Home Craft Ink Stamped Item – 2nd
152 Craft Home Craft Decorative Painting – 1st
157 Craft Holiday Decorations Christmas – 1st and grand
159 Craft Holiday Decorations Hanukkah – 1st
161 Craft Holiday Decorations Fall – 1st
162 Craft Holiday Decorations Misc. Holiday (quilled valentine) – first
164 Craft Woodworking Wood Burning – 2nd
171 Craft Ceramics/Clay Hand Built Item – 2nd
175 Craft Art Drawing, Ink / Pen – 1st
177 Craft Art Metal Art / Metal Jewelry – 1st
178 Craft Art Stamping – 1st
181 Craft Art Scrapbooking (2-page layout) – 1st and grand or reserve
183 Craft Art Mosaic – 1st and grand or reserve
184 Craft Art Misc. Art (glass beads) – 1st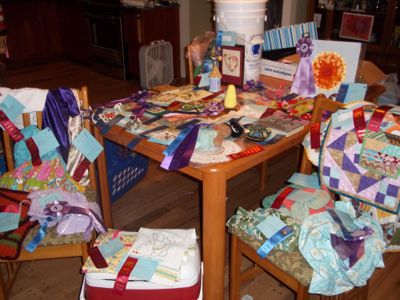 How do I feel about the outcome? Well, I am very bummed my knitted shawl didn't win anything, but I am very giddy that my strawberry jam won first place. I can't believe my Hanukkah item beat a Hanukkah item made by some who actually celebrates that holiday, and I think some of the cherry tomatoes I submitted were fermenting. All in all, the whole thing is pretty awesome.
What have I been doing since September 22? I did work on my scrapbooks for the first time in a year. Other than that, I've only been interested in crocheting market bags (106). I've done five so far and have number six about half done. Why? Why do I want to make all these bags? I do not know. I didn't manage to finish Anya's sweater in time to enter it, and I do want to finish it, but when I pull it out all I can think about is making more bags. Perhaps I want to go shopping?
On a related note, I want to mention that Andy's pickles won first place, and Anya (who entered 3 craft items) won two first place ribbons, a third place ribbon, and a grand champion ribbon. Our family totally dominated the 2012 Floyd Fair.
Thank you to all my friends and family who followed along and supported me during this quest. I shall leave you with a part from some poem I was forced to memorize in elementary school:
Somebody said that it couldn't be done,
But he with a chuckle replied
That maybe it couldn't, but he would be one
Who wouldn't say so till he tried.
–From "It couldn't be done" by Edgar A. Guest