I had a difficult time coming up with an idea for my next swap item. I felt like it needed to be something new — something I'd never tried before. I'd set the bar too high for myself trying all sorts of new stuff with my first two, and I was just hitting a wall made of crafter's block and The Busy. So, I did what any self-respecting procrastinator would do, and I didn't do my cards for two months.
Thankfully, a recent crafty weekend gave me a chance to get caught up and to let that guilty weight of card IOUs go. I stared at the "something new — something I'd never tried before" cards I had started back when I wasn't behind on the swap, and then I got cranky and glared at them and stuck out my tongue and said "NERFLEBLUFFLER!" (I did these things in my head because there were other people there, and I want them to keep inviting me to crafty events.) In the end, I made cards that were "something new — something I'd never tried before." They weren't, however, super complicated or time consuming. They aren't novel for most folks. They aren't cards I felt any need to take step-by-step photos of. But, I like them, and almost everything I used to make them, except the card base, came from my swap packet. That was pretty awesome.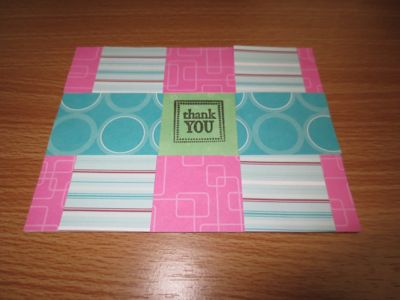 This "Thank You" card was made using a (mostly) simple weaving technique. I admit I put the glue on the wrong sides of the strips a few times. Luckily I had lots of extra paper. Next, I did a birthday card.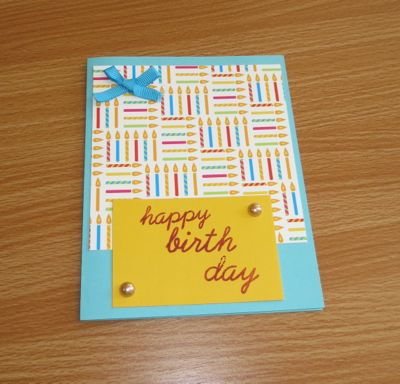 I took the photo of the card with the best bow. I don't tie very good ribbon bows at the best of times, but at 1am…well. Sorry to all my fellow swappers whose bows were less than awesome. I tried.
I have two more weeks to get my June swap items done before I am once again tardy. Maybe I can have Anya make them?