This year for Anya's birthday party (which was over a month ago, yes), we shared the day with another little girl from school whose birthday is only a few days before Anya's. They are in different classes, but nearly everyone Anya wanted to invite, the other girl wanted to invite, too, so it seemed like a good way to keep everyone from being over-birthdayed. It was sort of strange to coordinate with another family, especially since we parents don't know each other all that well. Luckily one thing we two moms had in common was a fairly laid back approach to the event.
I'm not sure if we didn't do a theme because it would have been tough to get both girls to agree on something or because we moms just didn't feel like it. Either way, we didn't have any sort of theme other than lets have some fun! We held the party at the school, and it was definitely nice to not have to worry about having a bunch of people over (no extra cleaning!). Plus there was lots of room for the kids to run around outside (until it started raining, at least).
If you are considering holding a joint birthday party for your child, I will warn you about one thing. Present-opening time is CHAOS. (Perhaps this is a look at what it's like to have two kids at Christmas?)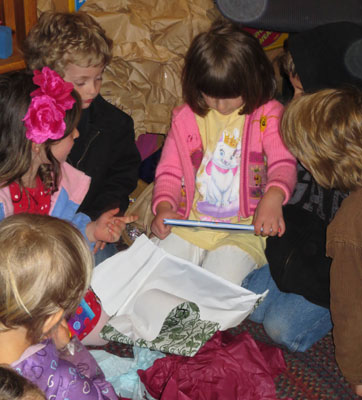 Each birthday girl had her own cake. I suppose (going back to the theme thing) if we'd had a theme, we could have made one giant sheet cake, but since we didn't and since both girls had different ideas about what they wanted and since there were going to be a LOT of people there, we had two cakes. For about two weeks before the event, Anya insisted she wanted a strawberry cake. I even pureed up the last of our frozen garden strawberries to make one, but before I got to that point she changed her mind. She wanted a chocolate cake, of course. I had planned to make the strawberry cake from scratch, but when we switched to chocolate for some reason I felt the need to go with a box mix. We got to the store and, yup, she changed her mind again. She wanted a yellow cake. With chocolate frosting. And strawberries on top. So, I guess in a way all her ideas were mixed into one cake.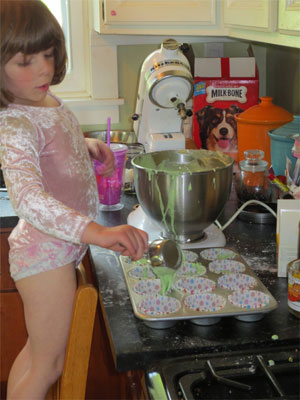 We made a two layer cake, but I'd planned on a big sheet cake so we had extra batter. A few cupcakes and a tiny space ship cake later, the batter (GREEN) was in the oven. After it cooled, which took FOREVER according to Anya, we frosted it and went to sleep. What a day!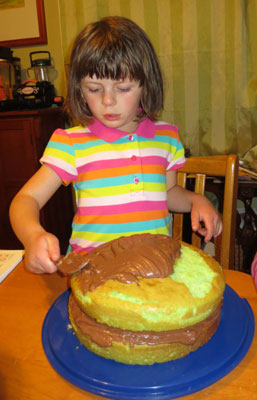 The next morning, I whipped up some frosting and colored it according to Anya's wishes. I filled up the decorating bags, and then Anya took over. I did help her squeeze the frosting out on the main cake, but she did all the designing. I was really impressed with how well she did. When she was satisfied with the frosting decoration, she added strawberries, and then TADA!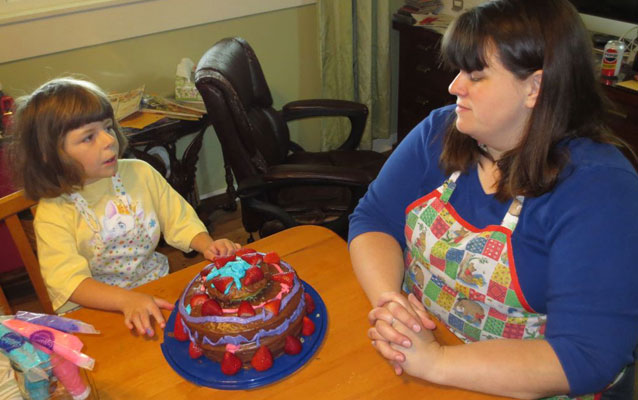 Anya decorated the cupcakes completely on her own. I got distracted doing something else, and then I turned around and BOOM. She was done. The cake was awesome, but the cupcakes were even more fabulously decorated. Perhaps from now on I should have her make my birthday cakes instead of Andy?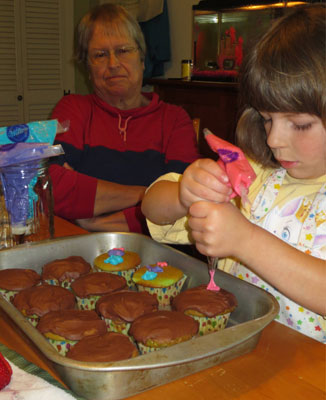 Her real birthday was on a school day, so we made some chocolate chip cookies to take to class.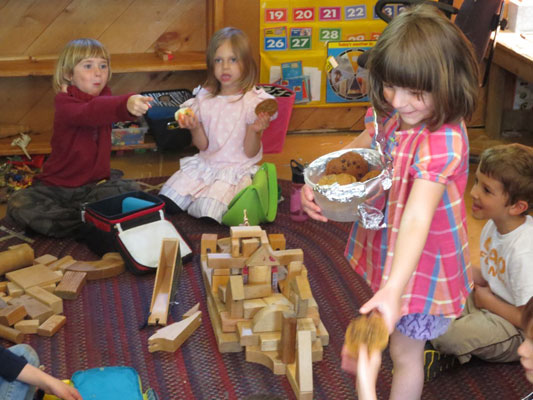 Then we skipped out early, and Anya, Gramma, Grampa and I did what every normal person does for a 6-year-old's birthday. We went to a plant nursery. What? Don't you celebrate birthdays with plants? (I remember one birthday of mine about ten years ago, some of my friends in MI kidnapped me and took me to a nursery for my birthday. One of the plants I got that day is growing right now in my backyard, and I think of those friends every time I see it.) This nursery had about a dozen greenhouses in two rows, each with a number on it. Anya ran from greenhouse to greenhouse (in order, of course!) and squealed when she entered each one. She picked out some tomatoes, peppers, tomatillos, cucumbers, herbs, and a LOT of different kinds of flowers.
That night we opened a few more presents.
And played with some presents.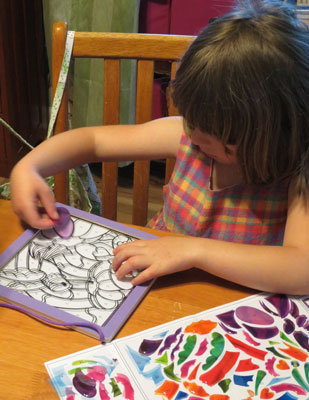 And went to sleep happy.