Someone from school posted recently that she missed the warm days of February. Me too.
84 | Horticulture | Cut Flowers | Dahlia: sprouting
85 | Horticulture | Cut Flowers | Gladioli: sprouting
94 | Horticulture | Cut Flowers | Calla Lily: planted
133 | Needlework | Clothing | Tote bag or Handbag: Completed
I bought the pattern for this bag around Christmas of 2010. At the same time, I bought some fabric and thread and bias tape. I started work on the project fairly soon after my purchases, but when my fabric ended up being too short of the pattern, I tucked everything away in despair. Stupid fabric being too short. I'm not really sure what qualifies something as a tote bag, but I am going to say this grocery-type bag is something you can tote things in, so good enough. This bag really stumped me several times, starting with the pocket on the front (which you can't really see in this photo). I learned about top stitching, and I did a lost of basting (without a turkey), and I sewed bias tape around a corner (tucking in the fullness). The bag took me a really long time to make, but I think now that I know how to make it I could make another one a lot quicker. Don't know if I want to make another one, though.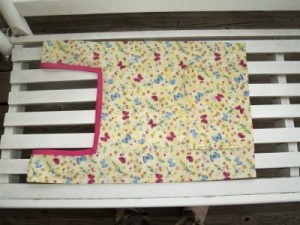 139 | Needlework | Quilt | Misc: Completed
I wanted something simple for my first venture into quilting. When I saw the Ziggity Mug Rug, I knew this was the piece for me. I'm not quite sure what a mug rug is. I thought at first it was a fancy coaster, but it's really big in a rectangular sort of way. The best I can figure, you put your mug on it and have room left over for a pile of cookies. For my mug rug, I poked through the bag of scraps from my yo-yo adventure last fall and found almost enough teeny pieces. I cut the last two pieces from some other fabric I found in my fabric stash. (I hesitate to call it a stash. It's more like a handful of handkerchiefs crammed in between yarn bins.) The fabric colors and patterns don't go together all nice and cute…part of that is because I accidentally sewed a few pieces together differently than I had meticulously planned. The binding is pretty messy, and I wonder if the washable marker I used to mark the points will indeed wash out. Still, the points match! THE POINTS MATCH! I am in awe.