I've been wanting to write a post for a while but you know, the usual: I'm tired, or busy, or foggy headed, or driving, or in the shower. That last one I think one day will be overcome. Surely one day there will be a wall-mountable, water-proof, steam-proof computer. I guess, though, along that line of thought, I could in theory dictate a post to some sort of device while driving. No matter how cool the device, however, that sounds like trouble to me.
My breakfast is ready, and my mind is wandering, and this post is about to be left to languish in the pile of forgotten drafts, so I better hurry up.
We went to Goodwill last weekend to look for some stuff for Anya's Halloween costume. Of course we had to check out the shoes. I think these are the most amazing shoes we've found so far. I almost bought them.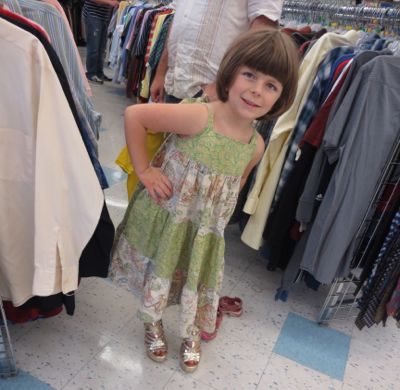 Do you need a better look?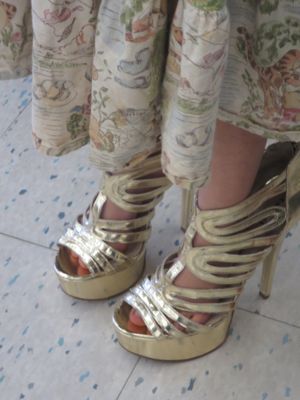 Personally, I think they go very well with Anya's outfit. I'm also thinking maybe we try on too many fancy shoes because she had absolutely no trouble walking up and down the aisle in these. Thankfully, pretty much every time she is done trying on fancy shoes she says something like, "Yes, they are nice but they aren't good for my feet and back." You got it, girl. And remember, soda is disgusting.
About two weeks ago, we went to Target to search for a birthday present for a little friend. We weren't in any sort of rush, so of course we had to roam all the aisles. After this trip, we read a really gross book about head lice and then watched a sort of gross cartoon about it. I sort of wish those events had been reversed, but (knock on wood) we seem to be safe.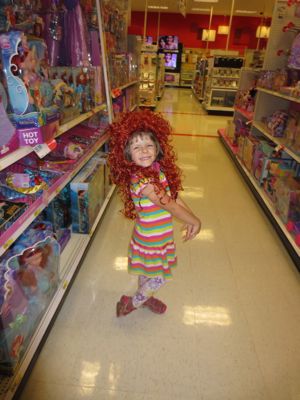 Although, this picture is so cute, it may have been worth a little lice.
No, not really.
I was definitely testing fate that day because I requested Anya pose in this hat, so I could see if I could replicate it later.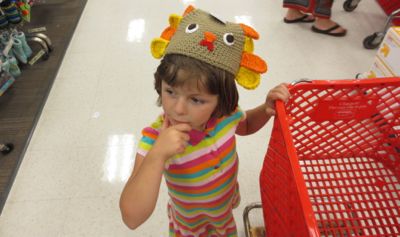 "See, Mommy, that's my thoughtful look!"
And that's all for now. My bacon is getting cold.