School started a few days ago, and it's been pretty cRaZY around here, but things are finally calming down. The first day of school was so action packed, I didn't get the traditional first day picture of the kid. (Shhhhh! Don't tell anyone or my scrapbook group will revoke my membership.) I have managed to get some crafty time in. Two weeks before school began, I felt an overwhelming need to make Anya the place mat she needed for lunch time, so I pulled out a pattern I used last year for The Great Fair Adventure and whipped up this: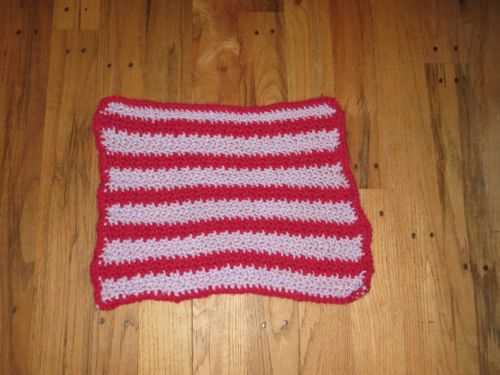 Nothing fancy, but still nifty. I mean, it is destined to be coated in peanut butter and squished grapes. The yarn I used is leftover from Anya's sweater and from a Fair project. (I think I will be using the sweater yarn for a LONG time. I sort of overbought. By about 5 skeins I think.)
After the place mat, I blazed through Anya's second sock (no pictures…it looks like the first one). My latest project is making gifts for all the folks at school who have been / are going to have babies. I found the pattern, Flower Power, on Ravelry (which rocks if you knit or crochet). I'm planning to make several, but so far I've only finished the one. I'm not sure if any of the baby mamas or papas reads my blog, but I'm going to guess not. If they are, um, hi! You'll be getting one of these in the near future!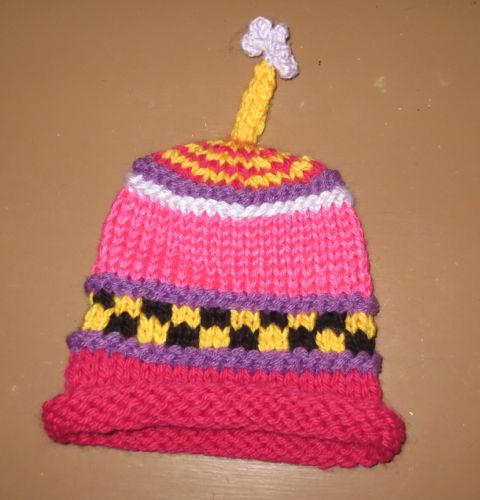 Do you recognize any of that yarn? Yup, more sweater yarn. And a wee bit of the purple Fair/place mat yarn. The yellow and black are from a scarf I started a while back but didn't finish due to lack of yarn. Riiiiiiiiip! The other two colors were from my early knitting days when I bought yarn by the pound.
I'm also working on a crocheted froggie blanket, but no pictures yet. I definitely have my fiber groove back on.