The fair is September 22. Have I mentioned that yet? It's getting close, and I'm getting a bit nervous. I'm still working hard and have finished two more pieces. I don't have the numbers, but here ya go anyhow:
Needlework | Clothing | Skirt: Completed
I don't know if I've ever completed a clothing sewing project. (Unless that Michael Jacksony glove I made out of swimsuit material in elementary school counts. Does it?) I've started several but didn't finish them. When I went looking for patterns for the fair, I tried to find something simple. Want to know of a pattern this is not simple? McCall's M5841. Looking back, I wonder why I thought it was simple. It has a bunch of pieces. It's gathered. Why would I think that's simple? I suppose it doesn't have any zippers or buttons. I also suppose back then when I bought the pattern, I didn't realize how gathering and bunches of pieces can be cRaZy.
I tried starting this a while ago. I got all the pieces of the tiers sewed together and the top part cut out and sewed. Then one night I started trying to put it all together, and I don't remember what happened….it's sort of fuzzy, but the next thing I remember I was stuffing the pattern, directions, and fabric into my sewing box in a very angry and crumply way. I remember Andy stared at me and blinked and was sort of in shock or afraid or something because I was cRaZy.
Everything stayed in the box until my current visit to my Mom's house. Thank goodness for Mom, who gave me some great tips and support and distracted the kid. In no time…or a few days perhaps…it was done. HUZZAH! (Alas, my model was in need of a nap at the time of the big reveal and only very reluctantly wore the skirt for ten point two seconds while I snapped this very cranky photo of her.)
Woodcraft | Woodburning: Completed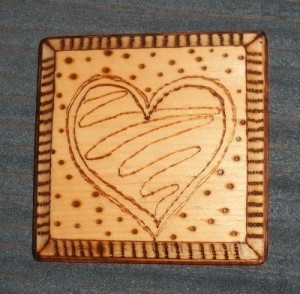 After I put the squiggles inside the heart, I wished I hadn't. Oh well. I do think I will do more wood burning because it is fun to burn stuff in a nice, controlled way. I used some of my birthday money to buy a little kit, and it's pretty nice. I do wish there was a good way to change the points without having to wait for them to cool down. Or perhaps a way to better tell if the point is cool before actually grabbing it. (Ow.)
Up next? A small quilt, a shirt, and a dress (made using fishbowl fabric!).