Amusing things the kid has said lately. Can you figure out what she meant?
1. "Daddy, would you go get my weasel out of the car?"
2. "I got a casket today!"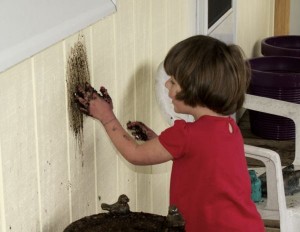 I pulled out my rotary cutter, iron, and sewing machine a week or two ago to start on the quilted items for the fair. (Should I mention it took me a week to find the iron?) Anya was immediately intrigued by everything. Letting her use the rotary cutter was out of the question, especially after I sliced my finger. But, I remember helping my Mom iron when I was a kid, so that seemed something okay to try. (I was in charge of my Dad's handkerchiefs!) We do have an ironing board, but it's buried in the closet behind a few hundred pounds of scrapbook stuff and a dozen shoes (some matched, some not). Who needs an ironing board, really, when you have stone counter tops? I laid out a hand towel with a cloth napkin on top. Worked quite well. After I had the iron heated up, the kid pushed a chair over against the counter and demanded a turn.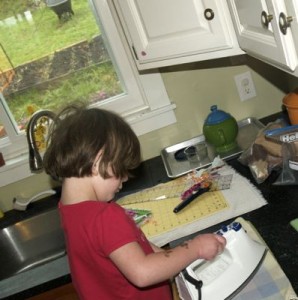 She is, I think, a better ironer than I am now that she's had about as much practice as I've had in my entire life. She only ironed in a few wrinkles and nothing got burned (fingers or fabric). Yay! If anyone in the house needs a shirt straightened out, I know who I am asking to do the job.
I also remember my Mom showing me how to use her sewing machine, so if this story ends in a trip to the ER it's all her fault! (Don't worry; it doesn't.) I found some scrap pieces of fabric and talked Anya through all the parts of the machine. Everything was set up and ready to go when we realized Anya and Miss Piggy have something in common (other than being awesome singers). Neither one can reach the pedal. Miss Piggy wears super shoes to reach. Anya ran off and came back with her step stool from the bathroom. Perhaps not as glamorous as 12inch heels, but it worked just the same. She was a bit startled by the zoooooom of the machine, but she got used to it pretty quickly and sewed several scrap pieces together.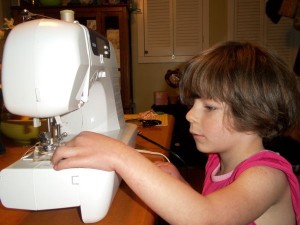 That's my girl!