….me wearing a cape I made for Anya's class.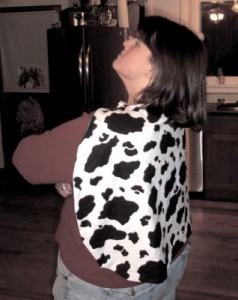 This weekend I made seven capes. Most of them don't look like this one. Well, none of them look like this one. One of them looks kind of like this one but with zebra stripes. The rest are velvety, and I can't wear them because I don't have the neck of a 3-4-5-year old, and Anya refused to model one for me, and so I have no picture. And now for a fair-crafting update.
137 | Needlework | Quilt | Wall Hanging: Completed
I feel like a real quilter now. The pattern I chose was called "Amish Unknown" and was from Quilts from America's Heartland: Step-By-Step Directions for 35 Traditional Quilts, which I found at the library. I love the library. If you recall, I had a bit of a rocky start. Yeah, I am pretty sure the measurements in the book were wrong. Here's a picture of the size called for in the book (left) and what it really should have been (right). (I forgot to mark the mistake in the book before I returned it. Arg.)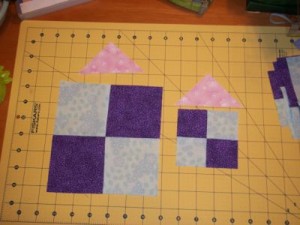 After I ranted and whined for a while about having to cut down those squares, the block went together pretty quickly. I stalled for a week or two, though, on the binding. My goal was to finish this weekend, but yesterday I realized I was almost out of thread. So, I took a nap. But when I woke up the thread fairy had not appeared, and I learned the fabric store in town closed in 32 minutes. I threw Anya and Andy in the car and flew! I thought all was lost when a fancy car from one of the funeral homes in town pulled out in front of us on the road-with-few-passing-zones. Luckily, they were done with the funeral and on their way home and I guess ready for a beer because they drove pretty fast. We pulled into the parking lot of the fabric store with three minutes to spare. One of the workers was walking out the door, and I began to panic. I grabbed my money, ignored Andy and Anya, and dashed to the store door, which was mercifully still open. I walked in, and the lights were dim, and all the other employees were standing in the entry way with their coats on and their purses on their arms. Uh oh.
But, when I held up my nearly-empty spool and declared a thread emergency, one of the women calmly escorted me to the thread display, picked out what I needed, gave it to me, and ushered me towards the checkout, where another woman rang up my purchase with a smile and turned off the cash register, and then they all gathered behind me and herded me out of the shop before I could be distracted by shiny objects. I was so excited and full of glee, I flung my thread-holding hand up into the air as I skipped to the car. The spool flew from my fingers and bounced off the parking lot surface and rollllllllllllled under the car down the hill towards the huge drop off to the street below. Time went in slow motion as I yelled, "My threeeeeeeeeeaaaaaaaaaaaaaaaaad!" Then I realized there was a wall there and the thread didn't go so far and it would all be O.K.
Anyhow. After that I felt I must do the binding immediately. Otherwise all the drama was pointless. It took me three episodes of Monarch of the Glen and several furry helpers to do the hand stitching on the back, but now it is done! (I can't believe they killed off Hector!!!)
Now, without further ado….