Don't mistake my lack of posting for lack of interest in or work on my Fair items. I'm still plugging away. I was sick for a week and a half, and the kid was sick for a few days, and that really put a crimp in my…well, in pretty much everything. I still managed to complete three items since I last posted.
105 | Needlework | Crocheting | Table Linens: Completed
The first item is kinda freaky, but I am very happy with it. It is the first crocheted item I've made probably ever. If you can't tell, it's a place mat. The pattern is based on Scotty's Place dish mat pattern. I needed an extremely simple pattern to get started with crochet, and this fit the bill. It took me forever to get through the first few rows, and then I got the hang of it. Special thanks to my Mom, who gave me several crochet lessons.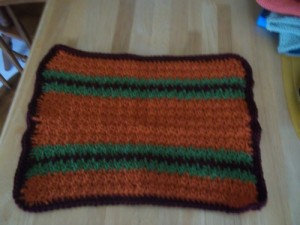 108 | Needlework | Knitting | Infant's Set: Completed
I spent way too much money on the yarn for this item because I was caught up in the school's Local Gifts program. I got a sticker every time I bought something from participating local stores. I NEEDED a sticker from the local yarn store, so I spent way too much on Really Expensive Yarn for this item. I didn't have enough Really Expensive Yarn to do the hat, so I bought some Really Inexpensive Yarn. To tie the pieces together, I did a little embroidery on the sweater and shoes using the Really Inexpensive Yarn. The patterns are from Baby Knits for Beginners by Debbie Bliss. I learned quite a few things with these pieces. The neatest one…weighing yarn! I read a trick on Yarn Harlot. When you are working on a pair of something (baby shoes in this case), and you finish one and don't know if you'll have enough yarn for the second, weigh the finished piece and weigh the yarn you have…and presto, you'll know! One of these shoes weighed about 11 grams, and I had 14 grams of yarn left for the second. Yay! I also practiced several methods for stitching knitted pieces together. Oh! And I made a sweater!! It's my first sweater ever. It is super simple and super small, but it is a sweater! This still needs to be blocked, but since it's getting shoved in a box for a few months, I'll wait for a while to do that.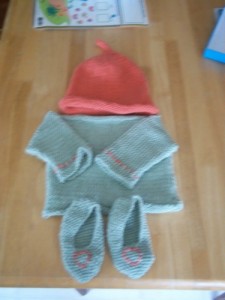 119 | Needlework | Embroidery | Needlepoint: Completed
Hands down my favorite project I've made for the Fair so far, this pin cushion. While most of the projects I've made are destined to be gifts, no one is getting this pin cushion but me. I really, really like it. (The picture doesn't do it justice. All these photos are a bit blurry.) The needlepoint part has been done for a while, but I avoided finishing it because just thinking about making a cord and tassel scared me. Turns out, it's pretty easy to do both. The pattern is from Medieval Needlepoint: Twenty-Four Easy-To-Make Projects for the Home by Debby Robinson. (I love the library.)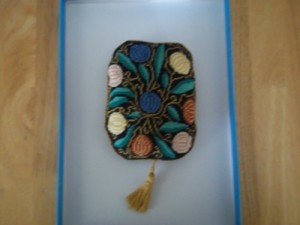 102 | Needlework | Crocheting | Afghan: Started
My next item is underway. It's a crocheted afghan using a Lion Brand pattern where the afghan is created on a diagonal. I am crocheting a triangle right now, and supposedly it will end up as a rectangle. I have my doubts, but I keep working while I chant my Fair mantra, "I don't have to win, I just have to enter." Is there a rule somewhere that says an afghan can't be a giant diamond?