We had chicken for dinner last night. So did some of our neighbor creatures. Our chicken came from the fridge, but theirs came from our chicken house. We are now down to one sad and lonely hen.
"Mommy, is the chicken sad?"
Yes, I think so.
"Why? Because she lost her family?"
Yeah.
In other news, I'm still working on Fair stuff. It's starting to feel like a bit of a burden, though. Sorry, can't do whatever because I need to work on this whatever for the fair. It mostly doesn't seem that way, but sometimes it does. "Fair" is, after all, a four-letter word. But, I also love how I am trying new things and learning new crafts and making neat stuff.
184 | Craft | Art | Misc. Art: Completed
For Christmas, Andy gave me a groupon for a bead-making class at the Jacksonville Center. We've lived here six years now, and except for a recent birthday party, I'd never set foot in the Jax. Made me a bit sad. The class was held about two weeks ago, and it was taught by a friend and mama of a classmate of the kid. When we turned on the torches, I felt like I was back in chemistry lab. Don't I look cool and arty?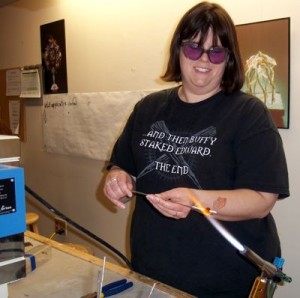 Hot glass is fun. When I came home, Andy wanted to know if I was going to add bead making to my crafts. Not for now, I said. This is definitely an activity that requires a lot of practice, and it's also not cheap. Maybe, I said, when the Fair is over I'll play with it more.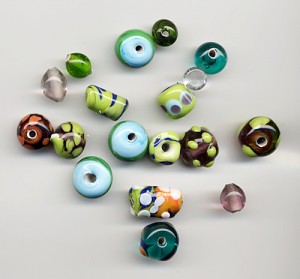 157 | Craft | Holiday Decorations | Christmas: Re-Completed
When I saw this kit on clearance, I made an executive decision. I took the piece I'd previously made for my Christmas decoration and moved it to Metal Art (see below). Then I set to work on this holiday garland. I was rocking and rolling and thought I would finish the piece in one day, but then I discovered I was missing the pink birds. What is it with me and kits and missing pieces? I did as much as I could, and Andy emailed the company, and a week or so later I got the stuff I needed plus an entire new kit for a "PEACE" garland.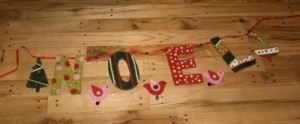 177 | Craft | Art | Metal Art / Metal Jewelry: Re-assigned / Completed
The metal stars I made a while ago and was going to use for 157. Now they are 177.
106 | Needlework | Crocheting | Misc. Crocheted Item: Completed
I am starting to believe that free patterns from magazines, display racks at stores, and included with yarn are bogus. There was that teepee trellis I tried to make years ago, and the great afghan disaster, and the latest, a crocheted market bag. The pattern was on the paper wrapped around some cotton yarn I'd bought a while ago. The directions said it was Easy! After trying for several days to figure the pattern out, I tossed it and went searching online. I found this pattern. It took me less time to finish this bag than it did to realize the first bag pattern was junk.