My crafty friend, Judi, loves to tell the story of how I showed up at my first scrapbook crop with all my paper crafting supplies in a grocery bag. I said something about how I wasn't interested in getting all crazy into paper crafting. I just wanted to make my scrapbook. And now, six or so years later, Andy was forced from a sense of self preservation to turn this storage area…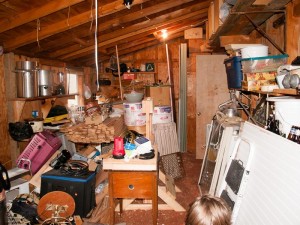 …into this…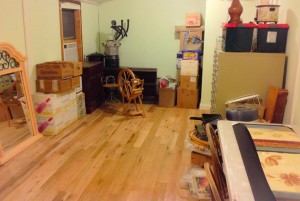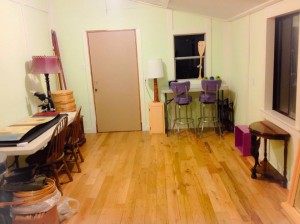 …so I would have some place (slightly bigger than a grocery bag) to keep all my paper crafting stuff. Of course, I don't just play with paper crafts. There are fiber crafts (knitting, crochet, embroidery, crewel, spinning), and fabric crafts (sewing, quilting), and random crafts (a smidgen of wire work, bead work, clay, painting, carving, and who knows what else).
The room is still in progress. I need to find a day when I can sit up there, alone (HAHAHA), and ponder and contemplate how to organize things and where I want storage things and worky areas. Alas, most of the cool craft rooms I've seen online use storage stuff that won't work here — in the land of Stink Bugs. I can't use open bins or stack yarn or fabric or paper in open shelves. Everything needs to be closed, so that nests of these blechy beasts don't contaminate with their smelliness. This is why my yarn is currently in here.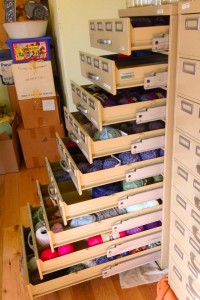 Andy has been a bit hyper about this space, mainly about getting my crafty stuff into it and out of the house. He is the one who put all that yarn away. He also built a set of folding screens to hide the elliptical machine along the back wall. He built the screens and then bid me decorate them "like that person did on pinterest." (Can you believe ANDY uses pinterest now???)
The pinterest person used fabric scraps to cover her screen. Not having really all that much fabric but having enough patterned paper for the entire county, I finally found a use for a paper pack I bought years ago. (Loved the paper but it never really fit anything I made.) I found that the best way to do this project was to get the papers cut and laid out for one section.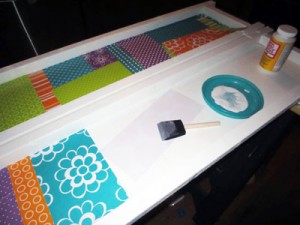 Then I set them in order on the other section. One by one, I glued each piece down by applying mod podge to the back of the paper and smoothing it all down. After all the pieces were attached, I put two or three more coats of mod podge on top.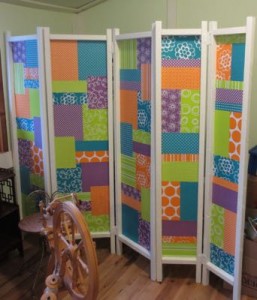 It's a bit lumpy, but it'll do!