For Halloween this year, Anya really wanted to be a minion. And Andy needed to be Gru. And I needed to be one of the little girls. I found crochet patterns for a minion hat and for minion goggles, and I made up a super simple knit pattern for a Gru scarf.
Alas, as much as Anya wanted me to be one of the little girls, the complexity of their clothing was too much for me (so many parts!). I thought about going as a kid in "The Box of Shame," but that somehow didn't seem appropriate to wear to school. I remembered I had a purple wig from last year, and I pondered for a while dressing up as a purple minion, but that required me to get a purple shirt. Woe is I. In the end, I crocheted up a minion goggle and wore my purple wig and made growling sounds and had to explain to everyone who I was dressed up as because really I was just a weird person wearing a purple wig and a circle thing on her face.
And Anya? She wouldn't wear the goggles. By the end of the school party, she'd taken off her hat, gloves, and shoes, too. When she got home, she changed into normal clothes and wouldn't put any part of her costume back on for trick o' treat time. Andy convinced her to put on her big sweater and go as Red Riding Hood.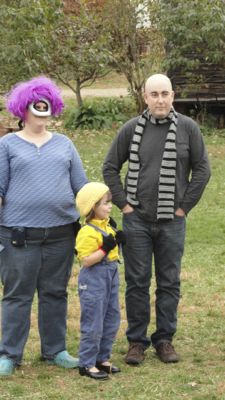 Andy's costume was definitely the most successful of all. He shaved his beard off the night before and had a coworker help him put on the bald cap and draw in super big eyebrows. He was really creepy, and I almost didn't recognize him when he showed up at school. A few people thought he was Uncle Fester.